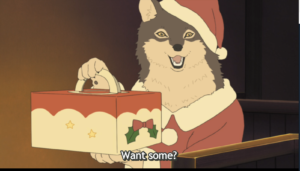 As we work to rebuild our website, we would like to invite you all join in a tradition that we adopted from the fine folks from at the Reverse Thieves. That is of course Anime Secret Santa! Each year we invite friends old and new to come together and share suggestions with each other. Like any Secret Santa, you don't know who gave you this recommendation and on Christmas Eve as we prepare for the annual visit of Santa Claus. We do this for three reasons, the build connections between fellow fans of Japanese animation, highlight things you love and watch people to see, and mixing up what you watch.
If you want to participate please sign-up here by Friday October 15th, so that Santa's elves Vinnie and Diego can prepare everyone's suggestions with enough time watch and review the material.
We should have everyone's connections ready by October 18th and so you can prepare 3 suggestions (don't worry we are only asking you to review 1 of them). The suggestions can be something the person has not seen (that you think they'd like or appreciate) that are less than 26 episodes.
We hope you will join us for another wonderful celebration at the end of the year!